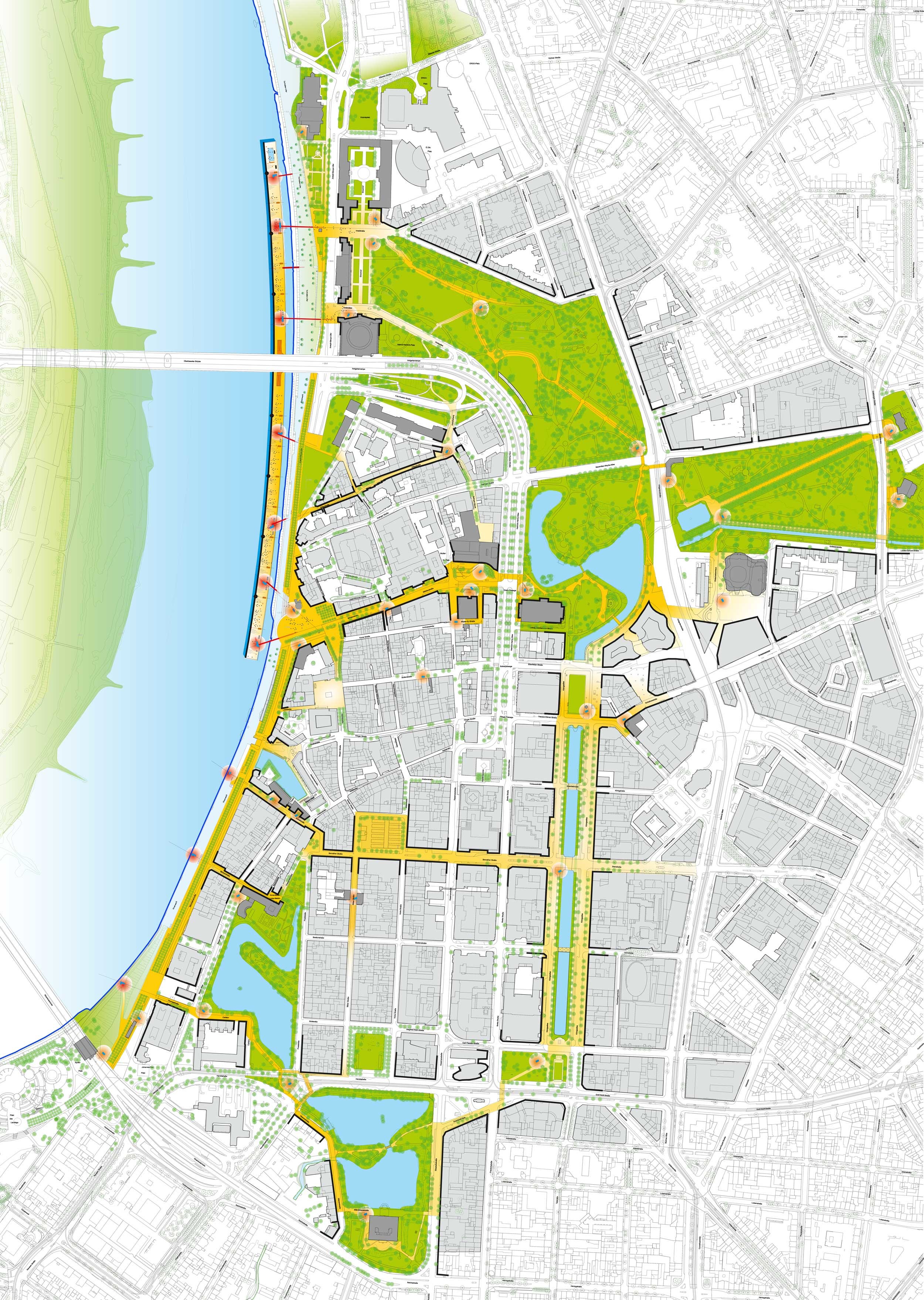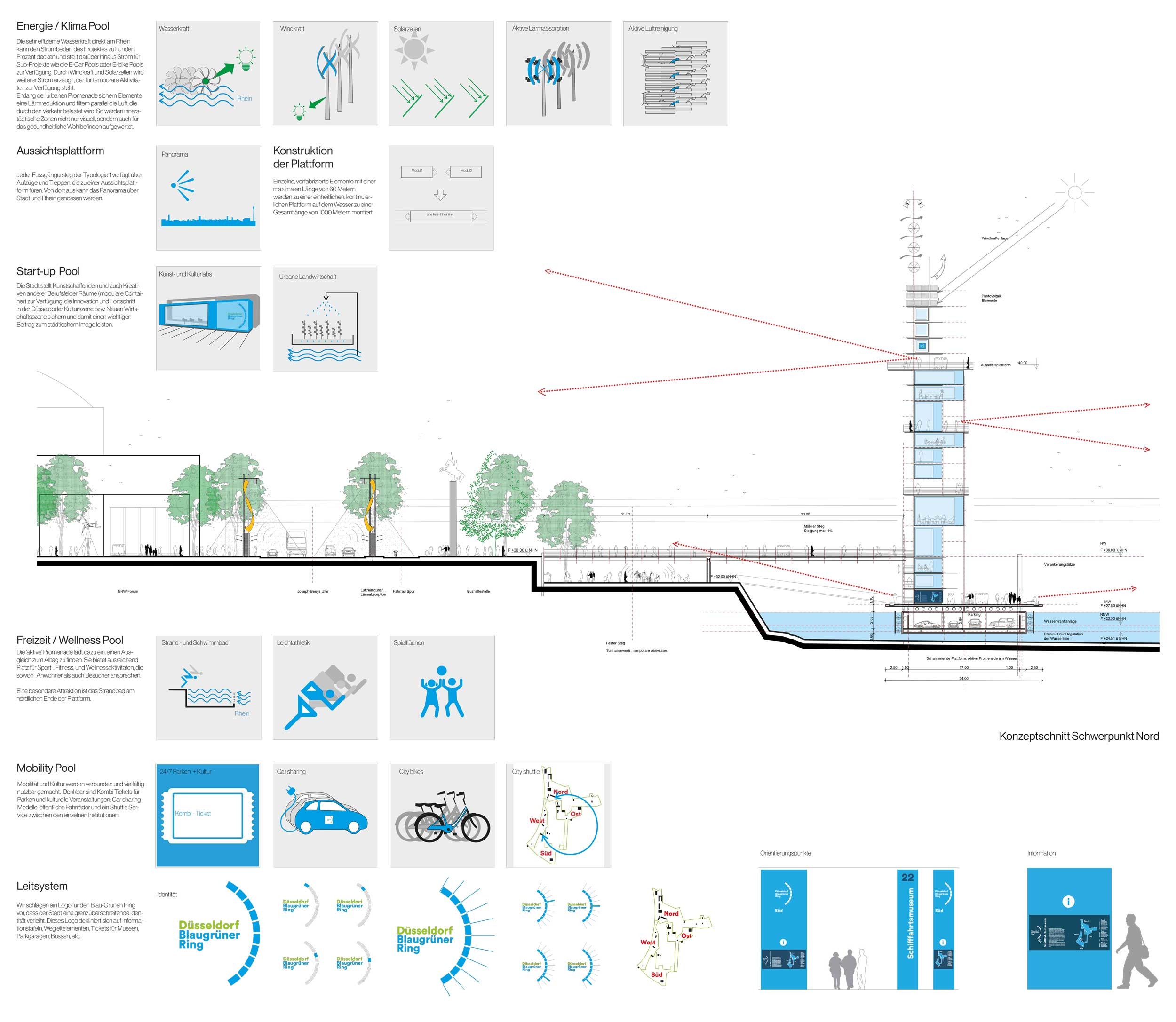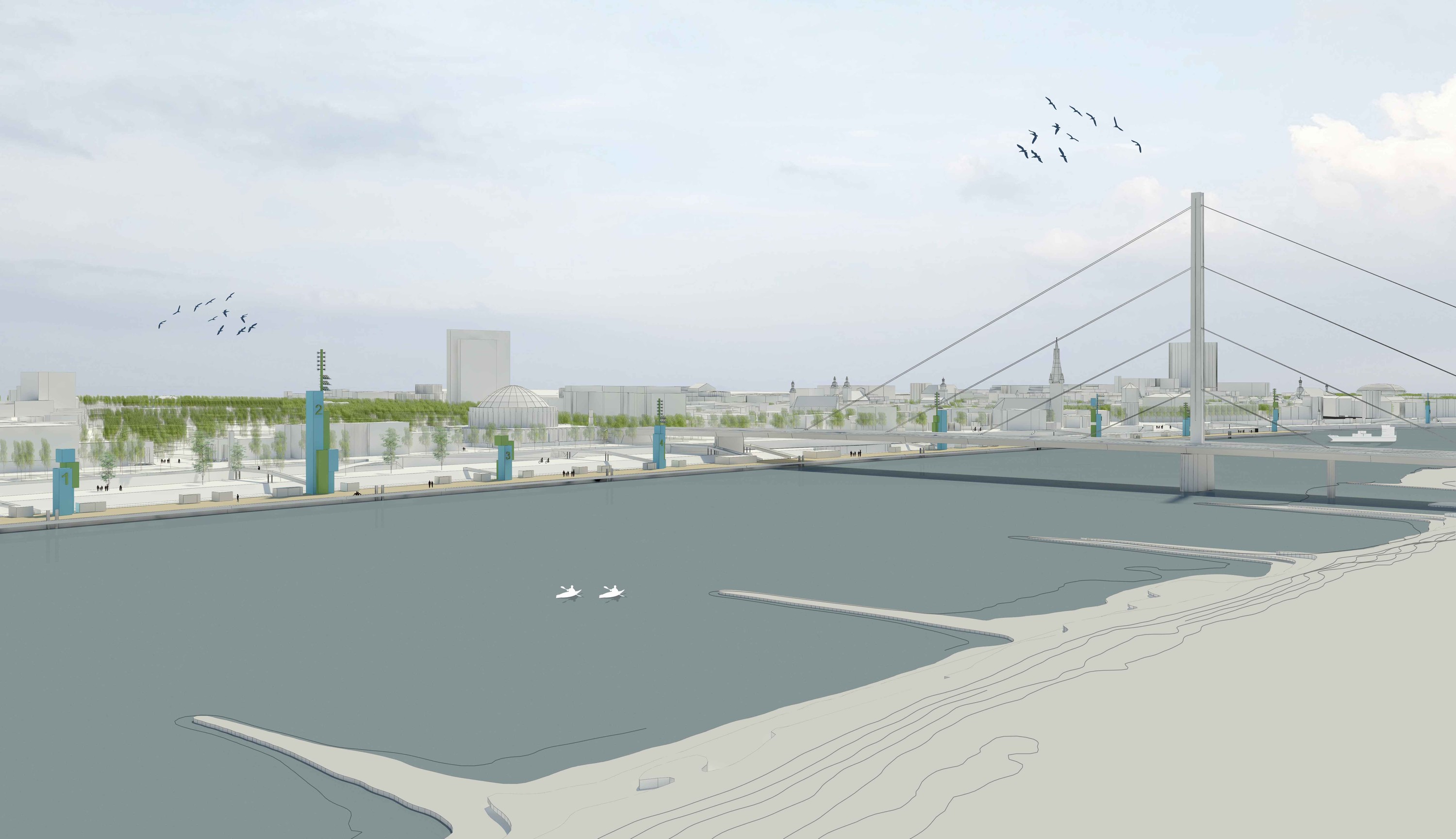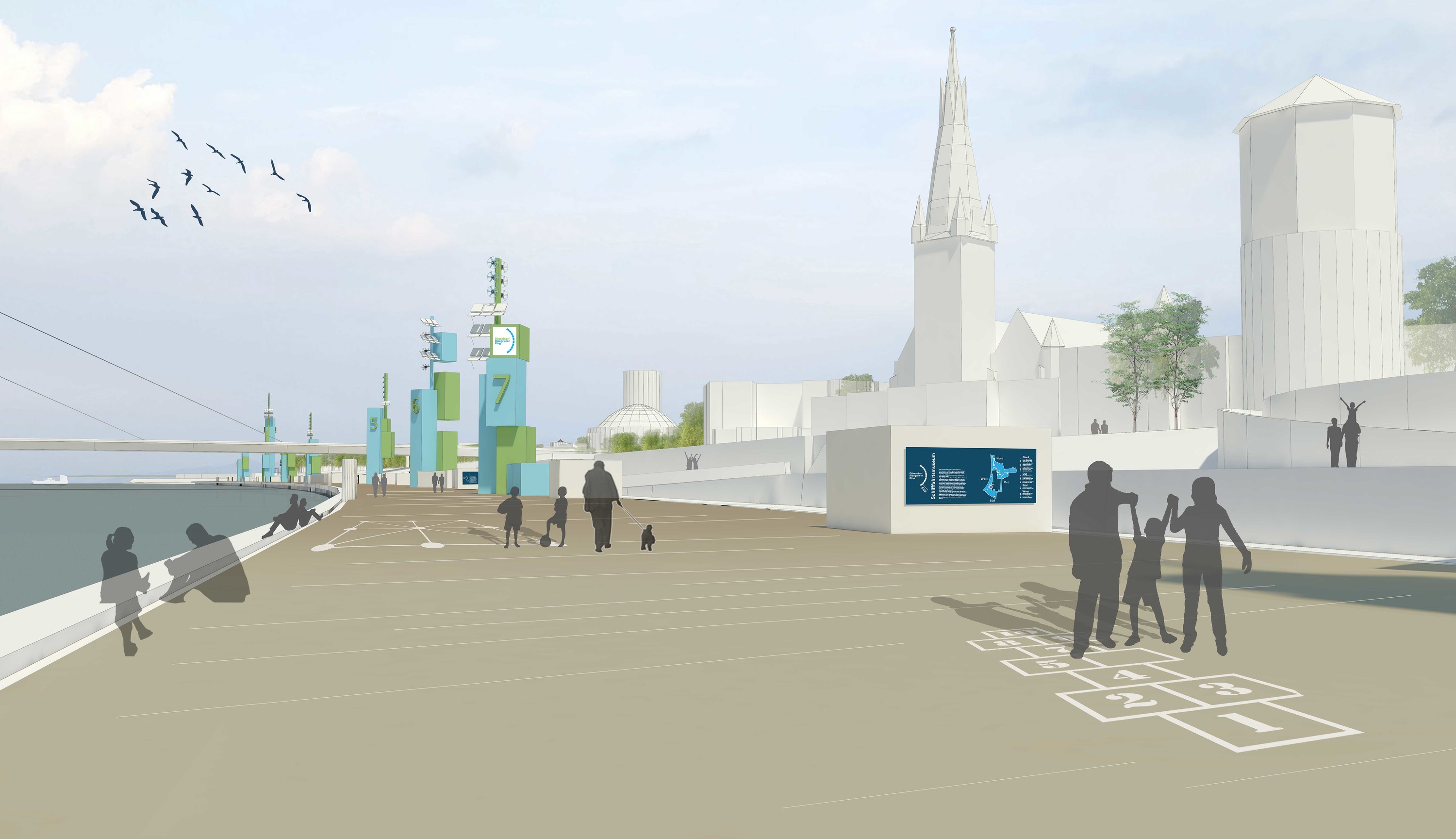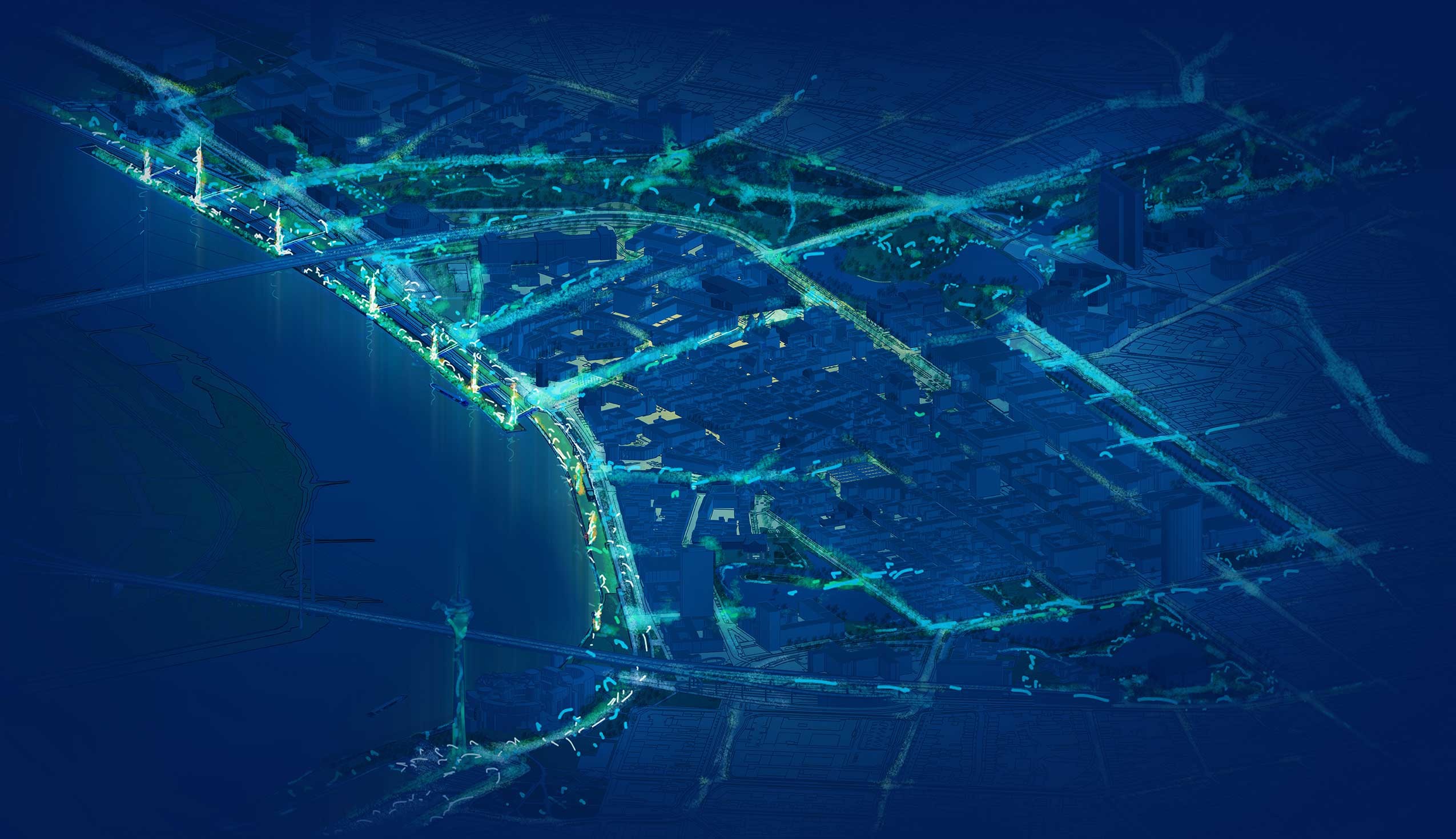 Blaugrüner Ring
Competition by CroMe Studio
Dusseldorf boasts a plethora of cultural venues along the Rhine and in its parks: theatres, museums, operas. They offer extraordinary potential, which the city wanted to highlight by launching an ideas competition for a new urban vision.
In response, we wanted to create a trail through the city, integrating marked paths to cultural venues and monuments, in order to give them maximum visibility and to facilitate access.
We took the Rhine as our starting point, imagining a new floating walkway, a kilometre long on the river. Punctuated by large totems situated at the intersections of the riverfront with the main roadways, the riverbanks become the nodal point of the city, from which paths are drawn to link the main cultural institutions.
The walk through Düsseldorf passes across footbridges that accommodate changes in level, and along broad footpaths, integrating a comprehensive signage system that includes lighting installations, landscaping and regular orientation panels.
As well as enhancing the existing cultural venues, the riverbank becomes a destination for a variety of public activities, temporary or permanent, sports, cultural, gastronomic, as well as alternative economic activities (containers to house start-ups). Underneath the deck, the submerged body of the platform contains 500 parking places, making it possible to intercept the traffic before it enters the city centre.
The proposal is accompanied by a graphic identity, predominantly blue and green: a new logo for the city identity, used on signage panels for pathfinding, and in an illumination based on a dialogue between water and vegetation, blue and green, the riverside and the city. The multiple liquid states of water, glinting and undulating, are captured and retransmitted on the city side, and in turn the vegetal energy of the urban fabric is collected in the city and revealed on the Rhine as a reflection on the river. A double reflection, creating a sculpture of light, instantly noticeable and visible from a distance.
Programme: The creation of a new urban vision for the cultural city | Client: City of Dusseldorf | Architect: CroMe Studio | Landscaping: Justine Mietting | Lighting: BOA Light Studio | Sustainability: Drees & Sommer | Signage: Gérard Plénacoste | Date: January — Febuary 2019 | Location: Dusseldorf centre and riverbanks, Germany